Wildlife Forensic Field Manual
Edited by Danny N. Walker, Assistant State Archaeologist, Wyoming Department of Parks and Cultural Resources and William J. Adrian, Wildlife Researcher (retired), Colorado Division of Wildlife
Forensic Manual and Time of Death Manual Pricing Structure
Member Agencies
Other Agencies
Public
Combo Forensic Manual plus Time of Death (TOD) CD
$30.00
$40.00
N/A
Combo Forensic Manual plus TOD Manual
$37.50
$47.50
$55.00
Forensic Field Manual
$25.00
$30.00
$35.00
TOD Manual
$15.00
$20.00
$25.00
TOD CD
$10.00
$15.00]
N/A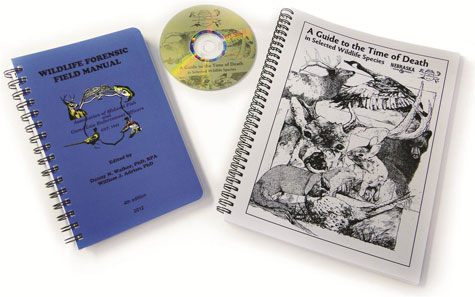 — 4th Edition, April 2012 —
To obtain copies, contact:
Bob Thompson
Executive Secretary, AMFGLEO
Colorado Division of Parks and Wildlife
6060 Broadway
Denver, CO 80216-1000
Phone: (303) 291-7342 bob.thompson@state.co.us
On November 28, 1899, Theodore Roosevelt wrote in a letter to the State of New York Fisheries, Game and Forest Commission that "I want as game protectors men of courage, resolution, and hardihood, who can handle the rifle, ax and paddle; who can camp out in summer or winter; who can go on snow shoes, if necessary; who can go through the woods by day or by night without regard to trails." In addition to these desirable attributes, the women and men protecting our countries' natural resources today need to know and use modern day technology including wildlife forensic techniques.
In 1976, the Association of Midwest Fish and Game Law Enforcement Officers (AMFGLEO) established a committee dedicated to wildlife law enforcement research. The goal was to provide the field enforcement officer with usable techniques for determining time of death, species identification, and other information to facilitate collection and preservation of evidence for use in wildlife enforcement cases.
This manual, originally known as the "Blue Book," continues to evolve and expand on procedures developed and used by you, the wildlife enforcement officer and your counterparts in wildlife forensics. This updated 4th Edition of the Wildlife Forensic Field Manual will be a valuable tool in your day-to-day field enforcement and laboratory activities to protect, preserve, and enhance the wildlife resources of your state, province, or country.
Robert P. Thompson, Executive Secretary
AMFGLEO
January 2012