AMFGLEO News Archives


November 6, 2009 – (Lone Star Outdoor News, Boone & Crocket Club) – Poachers Feel Sting from Boone and Crockett Scoring
Missoula, MT – Courts in a growing number of states are using the Boone and Crockett scoring system to slap poachers with more felony charges, stiffer fines and longer revocations of hunting privileges.
Game animals with large antlers and horns aren't just trophies, but valuable conservation resources that warrant harsher penalties for abuse, Boone and Crockett Club officials said.
"I can't think of a better use for Boone and Crockett's scoring system than assessing trophy-class fines for poaching trophy-class animals," said Lowell E. Baier, president of the club. "All wildlife violations are setbacks for conservation, of course, but we're especially pleased to see stiffer penalties for illegally taking an animal that is larger, has lived longer, is worth more as a benchmark of good management — and would have been a rare and cherished prize for a legal, ethical, license-buying hunter." Idaho, Montana, Ohio, Pennsylvania and other states now use all or parts of the Boone and Crockett scoring system for wildlife law enforcement.
Ohio, for example, is in the second year of a new penalty structure that is "based on the Boone and Crockett Club scoring system to calculate restitution values of illegally taken or possessed deer," said Ken Fitz, law enforcement program administrator for the Ohio Department of Natural Resources.
The penalty structure includes a formula that is somewhat complex, but for illegally killed deer with a Boone and Crockett gross score of 125 or greater (without drying time), the result is an exponential increase in restitution charges. In fact, the new regulation increased Ohio's penalty for poaching a 200-class whitetail buck from $400 to $17,000.
"Last year we had two deer with restitution values ordered in the area of $13,000," Fitz said. "From a deterrent point of view, the law is still too new to evaluate, but I believe it's having an effect. Under the old law, some people thought $400 in restitution was a gamble worth taking for a trophy buck. Under the new law, the stakes are much higher and not worth it for most folks."
He added that the new law seems very popular with both the hunting and non-hunting public in Ohio. In Idaho, the Boone and Crockett scoring system helped up the ante after Idaho poacher Frederick R. Schoenick of St. Maries killed a trophy mule deer before the season opener. Schoenick took only the head and cape, leaving the meat to waste. A game warden collected a DNA sample from the headless carcass. Later, when Schoenick entered the antlers into a local big buck contest, wardens used DNA to positively match the antlers to the carcass.
Because Schoenick's illegal buck scored over 150 Boone and Crockett points (actual score was 214 3/8), it was considered a trophy animal by Idaho statute and therefore subject to a more severe civil penalty — a $2,000 fine instead of the normal $400.
Jon Heggen, enforcement bureau chief with the Idaho Fish and Game Department, said: "In 1998, a group of concerned sportsmen believed that stiffer penalties would create a bigger deterrent to poaching. Their work transformed into Senate Bill 1499, which passed into law that same year. One aspect of this new legislation was increasing civil penalties on trophy big game animals."
Idaho law actually cites Boone and Crockett standards as the official definition of "trophy" for several species and states that the highest of the typical or non-typical scores shall be used to assess penalties.
"The 1998 law also established a felony violation when accumulated civil penalties surpass $1,000 within a 12-month period, so trophy status soon became a mechanism that helped elevate certain fish and game violations from misdemeanors to felonies," said Heggen.
This felony clause, in turn, increased the ability of Idaho courts to revoke a poacher's hunting privileges for more than three years and up to a lifetime.
Schoenick pleaded guilty to taking a trophy mule deer during closed season and wasteful destruction. He received a $3,158 fine, five days in jail or 120 hours of community service, two years of probation and a loss of hunting privileges for two years.
The Boone and Crockett scoring system originated early in the 20th century as a means of recording details on big game species that were thought to be disappearing. Conservation efforts led and funded by hunters took those species from vanishing to flourishing.
"Healthy fish and wildlife represents an investment by state conservation agencies on behalf of all citizens," Baier said. The Boone and Crockett Club has always stood behind law enforcement professionals and programs, and today we're especially proud that our trophy concept is adding more teeth to the laws that help protect public fish and wildlife."

April 8, 2009 – Texas Game Warden Training Center Groundbreaking Set for April 9
Hamilton, TX – Texas Parks and Wildlife Department officials and partners from the Texas Parks and Wildlife Foundation, the Police Activities League and the Texas Game Warden Association will break ground April 9 on the first phase of a planned $20 million training complex in Hamilton County.
Major donors will be recognized at the April 9 groundbreaking, and cadets from the 54th Texas Game Warden Academy class will be participating in scheduled field training exercises at the site.
For more than 30 years, game warden cadets trained in a converted warehouse on 6.2 acres in downtown Austin, along with a patchwork of borrowed facilities around the state.
That changed when the 54th Texas Game Warden Academy cadet class began training in fall 2008 at existing facilities on a 220-acre property in Hamilton County. Envisioned from the beginning as a public-private partnership, the property was donated by the nonprofit Police Activities League.
The Texas Legislature authorized an initial infusion of $3.6 million from the sale of the Austin property to begin construction on 39,000 square feet of instructional, administrative and residential facilities. Along with the state's initial investment, private donors have so far given about $6.4 million, altogether providing about half the estimated $20 million that will be required to complete construction of facilities that will be home to 48 cadets and 16 instructors at a time. With the first phase of the project underway, project partners are launching a broader public fundraising campaign and encourage Texans to support Texas Game Wardens with a donation.
The Game Warden Training Center eventually will include a water rescue training facility, a firing range, an emergency vehicle operations course and more (see complete plans online) — specialized training facilities that add dozens of hours in travel time and thousands of dollars to the training schedule now. The goal is a world-class training environment for a world-class law enforcement agency.
"Every day, every night, for more than a century, Texas game wardens have epitomized community-based conservation law enforcement across our state," said Peter Holt, chairman of the Texas Parks and Wildlife Commission. "They put their lives on the line, take educational messages to schools, save lives during hurricanes and floods, and do it all with a positive, can-do outlook. Sometimes they pay the ultimate price. Now, with this training center, game wardens could use some help. We hope the people of Texas will respond with donations to help us meet our fundraising goal."
Since 1895, Texas game wardens have built a reputation as "off-the-pavement" peace officers with a heritage second only to the legendary Texas Rangers. Sixteen have died in the line of duty.
That proud tradition of service is carried on today by more than 500 men and women who reflect the diversity of the people of Texas. They come from small towns and some of the nation's largest urban areas. Many have degrees in criminal justice or wildlife management or biology. Others studied the humanities, and worked as bankers and graphic designers, city cops and schoolteachers, before gaining entrance to the Game Warden Academy.
Something they all have in common is their dedication and desire to serve the people of Texas, and to help conserve the state's natural and cultural resources.
Only about 10 percent of applicants to the Texas Parks and Wildlife Department's law enforcement training program make the cut each year. Those who are accepted undergo the most rigorous training of any peace officer in Texas, and are widely acclaimed as some of the best-trained and best-educated conservation law enforcement officers in the nation. It?s a program with an international reputation.
In the most recent cadet class, two trainees hailed from the nascent conservation agency of the Mexican state of Nuevo Leon. Conservation organizations hope to send officers from as far away as Africa to attend future courses.
Applications are being accepted through April 30 for the 55th Texas Game Warden Academy class.
Major donors to the Texas Game Warden Training Center include William P. Clements, Lee M. Bass, TXU, T.D. Friedkin, T.L.L. Temple Foundation, Edwin L. Cox, Walter Umphrey and the George and Mary Josephine Hamman Foundation.
For more information about how to make a tax-deductible donation to support construction of the training center, please visit the Texas Parks and Wildlife Web site.

January 24, 2009 – Conservation Police Officer Honored by National Group
Kilbourne, IL (Pekin Daily Times, Amanda Jacobs) – Sgt. Timothy Sickmeyer has always loved the outdoors, so becoming a conservation police officer seemed like a natural career choice.
"I've wanted to do this since I was 12 years old," he said.
Sickmeyer said he was inspired to go into law enforcement by his childhood experiences of hunting and fishing with his father, Donald, who used to say, "They can be glad I'm not a game warden," whenever they saw someone breaking the rules. Sickmeyer, 48, of Kilbourne, has been employed with the law enforcement division of the Illinois Department of Natural Resources for 27 years, and he currently serves in District 10, which includes Mason, Logan, Menard, Cass, Morgan, Scott, Sangamon and Christian counties. Earlier this month, he was named the National Wild Turkey Federation's Illinois Wildlife Law Enforcement Officer of the Year.
Recognition
Sickmeyer will be recognized at the organization's Convention and Sport Show, which will be held from Feb. 19 to 22 in Nashville, Tenn., where he will also be eligible for the group's National Law Enforcement Officer of the Year Award. The NWTF is a nonprofit organization that aims to protect wild turkeys and preserve hunting traditions. Sickmeyer is involved with the organization locally, he said, and he enjoys representing the Illinois Department of Natural Resources at the group's events.
Since 2000, the federation has asked each state to nominate an officer "who has just gone above and beyond," said Michelle Jones, an administrative assistant with the NWTF.
Nomination
Sickmeyer was nominated because of his career-long dedication to the preservation of the state's natural resources, said Rafael Gutierrez, director of the department of natural resources' office of law enforcement.
"Tim Sickmeyer is a game warden's game warden," he said.
Previous Work
Before starting his current position last year, Sickmeyer spent 20 years in the investigations unit.
During that time, he worked behind-the-scenes to coordinate a number of undercover operations into several different violations, including poaching, permit fraud and hunting out of season.
"His work as a supervisor often times doesn't get recognized," Gutierrez said.
Background
Sickmeyer helped the department of natural resources get involved with the Attorney General's Environmental Crimes Task Force, he said, and he also makes an effort to work with local youth.
Sickmeyer likes interacting with the public and solving problems in the course of his work, he said, and he also enjoys "getting ahold of people that abuse our natural resources and teach(ing) them to do otherwise."
Although Sickmeyer is proud of his work, he said, he also tries to be humble, and his humility is apparent in his response to the NWTF award.
"I'm honored," he said. "I'm extremely honored."

December 19, 2008 – Michigan Man Fined $15,000 for Poaching Mountain Goat – Investigation began in 2006 when informant stepped forward
Salida, CO (www.coloradoconnection.com) – A Michigan man was fined $15,000 after being convicted of three charges related to killing a Colorado mountain goat without a license. Burt Vincent, 60, of Jackson, Mich., also faces a potential lifetime suspension of his hunting and fishing privileges in Colorado, Michigan and 28 other states. Vincent pleaded "no contest" in Chaffee County Court on Dec. 10 to illegal possession of a mountain goat, illegally killing a trophy animal in Colorado and hunting a mountain goat without a license.
Two others, Jack and Susan Derr of Florissant, Colo., also pleaded guilty to multiple misdemeanor charges related to Vincent's case and other wildlife crimes discovered during the investigation. The Derrs were ordered to pay $10,000 to the Colorado Operation Game Thief Fund.
The convictions marked an end to a two-year investigation into multiple poaching incidents.
"This case demonstrates how effectively law enforcement professionals from multiple agencies work together," said Shaun Deeney, an area manager with the Colorado Division of Wildlife (DOW) in Colorado Springs.
Investigators in Colorado and Michigan began working on the case in 2006 after an informant said that Vincent was in possession of a mountain goat from Colorado. However, there was no record in Colorado showing that Vincent was ever issued a mountain goat hunting license.
Based on the original tip, an undercover officer contacted Vincent at his place of work in Michigan. Vincent told the undercover agent that he had killed a mountain goat, adding that he had also killed a bighorn ram and a bighorn ewe in Colorado over the past several years.
The undercover officer had hoped Vincent would talk about the mountain goat, but didn't expect to hear about the two bighorn sheep.
"Bighorn sheep and mountain goats are majestic symbols of Colorado's high country," said Deeney. "Sheep and goat tags are among the most highly prized hunting licenses in Colorado. Every year, thousands of applicants vie for a just a handful of tags. Vincent and his codefendants literally cheated law-abiding hunters out of a chance for the hunt of a lifetime."
Mounting Evidence
Wildlife investigators followed a trail that led them Vincent's hunting partner Jack Derr. DOW records showed that Derr bought a mountain goat license in 2006. The DOW license database also showed that Jack's wife, Susan Derr, bought bighorn sheep licenses in 2000 and 2003. This matched Vincent's claim that he killed a bighorn ram and ewe.
Armed with several key pieces of information, two DOW officers interviewed the Derrs at their home in Florissant, Colo., and executed a search warrant on the residence. Meanwhile, Vincent was questioned by Conservation Officers from the Michigan Department of Natural Resources and special investigators with the U.S. Fish and Wildlife Service in Michigan.
In tape-recorded interviews, Susan Derr admitted that she let Vincent use her bighorn ram license in 2003 and her bighorn ewe license in 2000. She stated that she did not kill those animals but that Vincent did. Jack Derr also admitted that he gave Vincent his 2006 license to tag a mountain goat that Vincent killed.
During the investigation, Vincent admitted that his rifle was used to kill the mountain goat, but claimed Jack Derr did the shooting. He further claimed that Derr gave him the mountain goat to take back to Michigan because Derr didn't want it.
"The officers who conducted this investigation should be complimented on their thoroughness," said Deeney. "All of the officers involved acted professionally and courteously throughout the entire investigation despite accusations of impropriety by the defendants."
In addition to the mountain goat violation, investigators also discovered a case involving an illegal elk killed by Vincent in 2005 in Archuleta County. Vincent was found guilty in that case last August. He was fined $2,800 for that crime.
Deeney expressed his gratitude to the investigators with the U.S. Fish and Wildlife Service, the Michigan Department of Natural Resources, and prosecutors from the district attorneys' offices in Chaffee, Fremont, Teller, Archuleta, and Larimer counties for their help getting the convictions.
Colorado and Michigan are members of an Interstate Wildlife Violator Compact, which includes 30 states that offer some of the very best hunting and fishing hunting and fishing opportunities in the country. The compact includes provisions that establish reciprocal license privilege suspension by member states. Anyone who loses hunting and fishing privileges in one state is also suspended in the others. Colorado was a charter state in 1991 along with Nevada and Oregon.
Interstate Wildlife Violator Compact Member States: Alaska, Arizona, California, Colorado, Florida, Georgia, Idaho, Illinois, Indiana, Iowa, Kansas, Kentucky, Maryland, Michigan, Minnesota, Mississippi, Missouri, Montana, Nevada, New Mexico, New York, North Dakota, Ohio, Oregon, South Dakota, Tennessee, Utah, Washington, Wisconsin, and Wyoming.
For more news about Division of Wildlife go to: http://wildlife.state.co.us/news/index.asp?DivisionID=3
For more information about Division of Wildlife go to: http://wildlife.state.co.us
Information provided by Division of Wildlife.

February 28, 2008 – Poacher Can't Hunt for 20 Years
Helena, MT (Independent Record, Angela Brandt) – A Lincoln man, who state investigators say violated just about every wildlife law there is, will not be allowed to hunt for 20 years after being sentenced in District Court Wednesday on two felony charges.
Jeff Jorgensen, 36, will pay $17,000 in restitution to Montana Fish, Wildlife and Parks for unlawful possession of a game animal and unlawful sale of a game animal, both by common scheme.
Jorgensen also received five-year suspended sentences to the Department of Corrections for each charge to run concurrently.
After a game warden served a search warrant at Jorgensen's home in May, they found evidence of about 11 years of violations. Journals, photographs, hunting licenses, antlers and hides told the tales of the animals – including 14 deer, five bears and a mountain lion – and how they were illegally hunted. Jorgensen was subsequently arrested in July.
Montana Fish, Wildlife and Parks Regional Investigator Chad Murphy testified that Jorgensen had hunted during closed season, including hunting at night and using bait.
"Most hunters don't kill that many animals legally in a lifetime," he added. Jorgensen would falsify paperwork to put the animals' kill date earlier in the year, when that game's season was still open, in addition to making phony kill sites, Murphy said. He also would shoot animals in his yard, which is an archery-only area.
Court documents said Jorgensen used a motion camera to catch animals at his baited sites.
State Probation and Parole Officer Cathy Murphy, who conducted the pre-sentence investigation, recommended Jorgensen receive a five-year suspended sentence for each felony and 30 days in jail along with 20 years of suspended hunting, fishing and trapping rights.
Jorgensen, who had no previous felony charges, pleaded with Judge Thomas Honzel to allow him to hunt with his children.
"That's where our life is, is hunting and fishing," he said. "I chose the wrong way in the past. It's not going to happen again."
Honzel said Jorgensen can take his children fishing but cannot fish himself. He's not allowed to accompany anyone who is hunting, trapping or fishing himself.
"There's no reason for you not to know that most of what went on over this long period of time was illegal," Honzel said. "You went a long period of time when you decided these laws did not apply to you. They do apply to you."
Over the years, Jorgensen also allowed out-of-state acquaintances to illegally hunt on his land and claimed animals that other hunters killed, Murphy said.
"It's almost like he had to keep up with his hunting buddies for bragging rights," he added.
An investigation of additional suspects, both local and out-of-state, is ongoing, Murphy said.
Jorgensen also received six-month suspended jail sentences on misdemeanor charges of unlawful possession of a raptor for having a road-kill great horned owl mounted, illegal possession of a game animal by common scheme, hunting game animals by the aid of salt or bait, unsworn falsification to authorities and unlawful possession of a game animal.

November 20, 2007 – Virginia Game Warden Cleared of Voluntary Manslaughter Charge
Stanardsville, VA (The Associated Press) – A judge dismissed a voluntary manslaughter charge Tuesday against a game warden who shot and killed a Greene County teenager during a traffic stop in January.
Robert Orrin Ham III, the first Virginia game warden charged in a line-of-duty shooting, had pleaded not guilty in August. Game wardens are sworn law enforcement officers authorized to make arrests.
Authorities said Ham and a deputy sheriff, responding to a report that Allen Michael Cochran had abducted his girlfriend, stopped Cochran's car on U.S. 33 on Jan. 24. When Ham tried to remove the girl, the 16-year-old driver accelerated the car and struck Ham, who then fired into the vehicle, authorities said at the time.
Cochran's family later disputed the claim that he had abducted his 15-year-old girlfriend, saying the two were running away together and that the shooting was unwarranted. Ham was placed on administrative duties after he was indicted by a grand jury.
Commonwealth's Attorney Ron Morris and defense attorney Steven Benjamin both said in court Tuesday that if the case had gone to trial, it would not have resulted in a conviction.
"There was no crime. This was a necessary, justifiable shooting," Benjamin said after court.
Col. Mike Bise, chief of the Virginia Department of Game and Inland Fisheries' Law Enforcement Division, said an internal investigation also found that Ham acted appropriately.
"It was an unfortunate and tragic event, but we have been confident the court would reach this decision," Bise said.

November 14, 2007 – Six Residents Are Facing Wildlife Violation Charges
Columbus, OH (The Crescent News) – Six Defiance County residents were charged with 52 wildlife violations following an investigation conducted by the Ohio Department of Natural Resources' Division of Wildlife.
The six suspects are accused of wildlife violations concerning white-tailed deer, fox, black bear, wild turkey and Canada geese, according to the DOW.
The suspects are Lynn Miller, 31, William Shook, 29, John Coressel, 25, and Israel Miller, 30, all of Defiance; and Nathan Schindler, 30, and Chris Schindler, 28, of Bryan.
They are charged with a variety of third- and fourth-degree misdemeanors. Their cases will be heard in Defiance Municipal Court.
Wildlife investigator Mark Weihrauch and other division officers served a search warrant at the home of Israel Miller on Oct. 28.
While the search warrant was being executed other officers conducted interviews at three other residences.
Officers said they confiscated an ATV, a trailer used for field transport, a variety of firearms, six mounted deer heads, a mounted black bear, a mounted fox, numerous untagged deer and turkey parts, turkey meat, deer meat and spotlights.
Miscellaneous deer processing equipment was also seized.
Charges are:
Israel Miller, possession of untagged deer parts (10 counts), take more than one deer in deer zone A (three counts), take more than one antlered deer per license year (three counts), hunt and take deer with a rifle (three counts), possession of untagged turkey parts (two counts), sale of deer meat, possess a wild animal contrary to ORC or division rule, take a turkey with a rifle, hunt with the aid and use of a motor vehicle, spotlighting with a firearm, possess a black bear taken unlawfully from out of the state, take a Canada goose with a rifle, and take a Canada goose during the closed season.
Lynn Miller, tag deer of another and provide false information to a check station.
Shook, hunt with the aid and use of a motor vehicle (two counts), take deer with a firearm (two counts), spotlighting with a firearm (two counts), take a Canada goose with a rifle, take a Canada goose during the closed season, and take more than one deer in deer zone A.
Nathan Schindler, possess a wild animal contrary to ORC or division rules (two counts), take more than one deer in deer zone A (two counts), take more than one antlered deer per license year, hunt and take deer with a rifle, and fail to tag a deer.
Chris Schindler, tag deer of another, and provide false information to a check station.
Coressel, tag deer of another, provide false information to a check station, and aiding a wildlife offender.
If convicted, the suspects face possible fines and jail time.
A first-time wildlife offense involving the taking or possessing of deer could result in fines of up to $500 and a maximum of 60 days in jail.
Violators may also be required to pay restitution for illegally taken animals, and firearms and other items used in the violations may be ordered forfeited.
The DOW learned of the alleged activity through an anonymous phone call.
Anyone with knowledge of any wildlife violation, especially with the deer gun season approaching, is encouraged to call the hotline at 800-POACHER. The caller can remain anonymous. All calls are confidential.

November 9, 2007 – Feather Atlas of North American Birds
Ashland, OR – The Feather Atlas of North American Birds is a new web-based resource from the Forensics Lab for the identification of wing and tail feathers. These feathers are often encountered by OLE investigators in wildlife products or associated with bird remains, but can be very difficult to identify with bird field guides. The Fish and Wildlife Service Forensics Laboratory currently contains high-resolution scanned images of the flight feathers of 64 species, including all widespread North American hawks and eagles, falcons, vultures, owls, and doves, as well as roadrunner and other cuckoos and flickers and other woodpeckers. Of particular value to investigators will be the extensive series of scans illustrating the appearance of the wing and tail feathers at various ages in both Bald and Golden Eagles.
This is an ongoing project that will continually add new species. Efforts are currently under way to scan the feathers of gamebirds (grouse, ptarmigan, and quail) for which specimens are available in the Forensics Lab collection. We solicit the donation of specimens for this project. If a species from one the families currently covered on the website is not represented, that means we need a specimen from that species. Examples include Swallow-tailed Kite, Zone-tailed Hawk, Gyrfalcon, White-winged Dove, and Common Ground-Dove. We are also interested in obtaining examples of unusual plumage types, such as very dark or very pale Red-tailed Hawks. We welcome inquiries, comments, or suggestions on the Feather Atlas, which may be sent to PEPPER TRAIL or through the Contact Us page of the website.

October 28, 2007 – Florida FWC Officer Killed in ATV Accident
Miami, FL (Miami Herald) - A Florida Fish and Wildlife Conservation Commission officer died late Saturday, October 27th, while on duty in the Florida Everglades when her all terrain vehicle apparently crashed during a routine patrol in Broward County, the agency announced Sunday.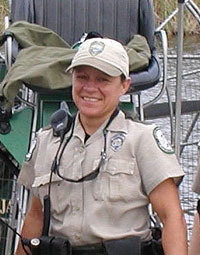 Michelle Lawless, 47, had been working in the northwest corner of the Rotenberger Wildlife Management Area, near the L5 Canal and the Palm Beach County line, when she apparently collided with a fixed object. The Florida Highway Patrol is investigating what caused the fatal accident.
Radio contact was lost with Lawless at around 10 p.m., said agency spokesman Jorge Pino. Lawless was found by a fellow officer at around midnight in the desolate area. She was airlifted, but pronounced dead on arrival.
The death is the third in a crash this weekend of a South Florida law enforcement officer. Miami Fire Captain Robert Garcia, 40, died early Saturday in a two-car accident in Miami. Two other teenage girls were seriously injured. Also on Saturday, Mark Strange, 34, an off-duty Boca Raton Police officer was killed in a crash on Florida's Turnpike near Lake Worth in Palm Beach.
Lawless's career with the FWC's Division of Law Enforcement began on May 25, 2003. After completing the FWC academy, she was assigned to Broward where she worked until her death.
"Michelle was a diligent, accomplished officer who died doing what she did so well, protecting Florida's natural resources. This is a painful loss to the entire agency, her family and friends," said Major Brett Norton, commander of law enforcement for the region, in a prepared statement on Sunday.
Lawless is survived by her parents Tom and April Lawless and countless family members and friends.

October 27, 2007 – Dogs Nose In and Help Stop Poachers
Wichita, KS (Wichita Eagle) - Labrador retrievers, a dream dog for legal hunters, are becoming a nightmare for poachers. Game wardens are using the breed's natural hunting instincts and strong desire to please their owners to bust people shooting more than their limits of gamebirds and illegally killing deer.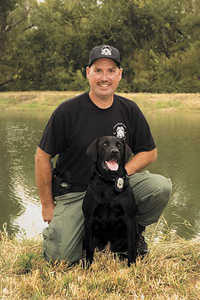 The breed that seems to be the polar opposite of the German shepherds and Doberman pinschers used by some city police departments is also helping Kansas law enforcement catch drug dealers and other criminals.
"It's amazing what these dogs can do for us," said Jason Sawyers, a Topeka-based game warden for the Kansas Department of Wildlife and Parks. "They can do in seconds or minutes what could take us hours or days, if we could do it at all."
Two- and four-legged wardens hit the fields in 2003 after more than 400 hours of specialized training in Indiana. More recent pairings do the same amount of training in Kansas.
The Labs are taught to find stashed game, such as ducks buried in marsh mud or deer antlers hidden in a vehicle. They're also taught to search for hunting- and fishing-related evidence, such as empty shell casings that could hold fingerprints or a speck of blood that could be matched to a freezer full of deer meat.
Going against their instinct, the dogs aren't allowed to fetch what they discover to their owners. Instead, they're taught to scratch and bark near their find so evidence isn't damaged.
Learning To Work Together
More than 200 hours is spent teaching the Labs the job of tracking humans under challenging conditions. The wardens are there to learn, too.
Jason Barker, a Wichita-based game warden, said the training taught how to establish the best relationship with his Lab, Moose. That included learning ways to help the dog quickly understand the requested task. "He has a different collar when looking for game or evidence," Barker said during a training session last week. "He wears a harness when he's tracking. As soon as I put something on him, he immediately knows what we're doing."
The long hours of training, plus mandatory weekly practice sessions, also help man and dog bond. "You have to learn how to read your dog, to tell what's going on," Sawyers said. "Every dog has a different tracking profile and you need to be able to tell if he's actually tracking or not." Most of the wardens keep their Labs in their homes to help strengthen that bond and understanding.
The program costs Wildlife and Parks pennies on the dollar compared to what it would cost in man-hours to do what the dogs can do. And much of the money has been donated. Mark Rankin, head of the program, said all of the dogs were donated to the program. Topeka-based Hill's Pet Nutrition Inc. donates the food. Cash donations totaling more than $15,000 have come from the Kansas City Safari Club and Papa John's Pizza, as well as a number of private citizens.
The wardens agree there couldn't be a better breed for their style of work.
Benefits of the Breed
From solid hunting stock, most Labrador retrievers have acute senses of smell and are physically built to withstand a lot of exercise and challenging weather conditions. A high desire to please their handlers helps make them tireless workers. Their playful nature also drives them toward success. Rather than treats as a reward for a job well done, the Labs simply get a chance to play.
"When Chase finds something, she'll scratch at it, then she's looking for her reward, which is playing with a rolled-up towel," said Dan Melson, a Eureka game warden. "She'll run all around and show it off to people like a kid with a big ol' lollipop. She doesn't get to play with it a lot at home, so it's a really big deal to her."
The Lab's gentle temperament is also a plus. "A lot of police dogs, like German shepherds, can be intimidating, but most people I check (for licenses or game) are happy to see Moose with his wagging tail," Barker said. "People start asking a lot of questions about the dogs and we get to talking. They're a natural bridge to the public." The Wildlife and Parks dogs are in high demand for demonstrations at schools and civic organizations.
Law Enforcement Assistance
The Labs have also helped the five wardens develop closer working relationships with other law enforcement agencies. The same nose that sniffs out a poacher's rifle can find evidence tossed from a car by a murder or robbery suspect. The first job for Sawyers' Lab, Rex, was recovering a wallet and knife buried by a shooting suspect.
The dogs will track a drug dealer on the run as willingly as a trespassing squirrel hunter. This year Melson's dog, Chase, tracked and located a meth dealer fleeing deputies in a rugged and remote area of Greenwood County. "I help them when we can because they don't have dogs and they're getting better about calling me if they do something and find evidence of wildlife violations," he said. "It's a win-win situation for both of us."

August 17, 2007 - EXECUTIVE ORDER: Facilitation of Hunting Heritage and Wildlife Conservation
The White House - Office of the Press Secretary
Crawford, TX - By the authority vested in me as President by the Constitution and the laws of the United States of America, it is hereby ordered as follows:
Section 1. Purpose. The purpose of this order is to direct Federal agencies that have programs and activities that have a measurable effect on public land management, outdoor recreation, and wildlife management, including the Department of the Interior and the Department of Agriculture, to facilitate the expansion and enhancement of hunting opportunities and the management of game species and their habitat.
Sec. 2. Federal Activities. Federal agencies shall, consistent with agency missions:
(a) Evaluate the effect of agency actions on trends in hunting participation and, where appropriate to address declining trends, implement actions that expand and enhance hunting opportunities for the public;
(b) Consider the economic and recreational values of hunting in agency actions, as appropriate;
(c) Manage wildlife and wildlife habitats on public lands in a manner that expands and enhances hunting opportunities, including through the use of hunting in wildlife management planning;
(d) Work collaboratively with State governments to manage and conserve game species and their habitats in a manner that respects private property rights and State management authority over wildlife resources;
(e) Establish short and long term goals, in cooperation with State and tribal governments, and consistent with agency missions, to foster healthy and productive populations of game species and appropriate opportunities for the public to hunt those species;
(f) Ensure that agency plans and actions consider programs and recommendations of comprehensive planning efforts such as State Wildlife Action Plans, the North American Waterfowl Management Plan, and other range-wide management plans for big game and upland game birds;
(g) Seek the advice of State and tribal fish and wildlife agencies, and, as appropriate, consult with the Sporting Conservation Council and other organizations, with respect to the foregoing Federal activities.
Sec. 3. North American Wildlife Policy Conference. The Chairman of the Council on Environmental Quality (Chairman) shall, in coordination with the appropriate Federal agencies and in consultation with the Sporting Conservation Council and in cooperation with State and tribal fish and wildlife agencies and the public, convene not later than 1 year after the date of this order, and periodically thereafter at such times as the Chairman deems appropriate, a White House Conference on North American Wildlife Policy (Conference) to facilitate the exchange of information and advice relating to the means for achieving the goals of this order.
Sec. 4. Recreational Hunting and Wildlife Resource Conservation Plan. The Chairman shall prepare, consistent with applicable law and subject to the availability of appropriations, in coordination with the appropriate Federal agencies and in consultation with the Sporting Conservation Council, and in cooperation with State and tribal fish and wildlife agencies, not later than 1 year following the conclusion of the Conference, a comprehensive Recreational Hunting and Wildlife Conservation Plan that incorporates existing and ongoing activities and sets forth a 10-year agenda for fulfilling the actions identified in section 2 of this order.
Sec. 5. Judicial Review. This order is not intended to, and does not, create any right, benefit, trust responsibility, or privilege, substantive or procedural, enforceable at law or in equity by any party against the United States, its departments, agencies, instrumentalities, or entities, its officers or employees, or any other person.
GEORGE W. BUSH

June 19, 2007 - Texas Natural Disasters
Austin - Governor Rick Perry held a press conference at the Gainesville EOC and spoke with the entities involved in the operation. The Governor thanked TPWD and DPS for the professionalism and immediate response stating that we are well prepared due to our experience in dealing with natural disasters. At approximately 3:45 pm, the body of the two year old victim was found by game wardens Jim Lundberg and Trent Herchman. At approximately 4:45 pm, the EOC was working on a press release stating that the other two possible victims were unconfirmed, unverifiable, unfounded putting an end to a continued search for bodies. As of now, wardens are closing out their patrols of the area and are released to regular duty.